Banana Punch
Give your brain a break and put it on island time with Banana Punch. This indica-dominant hybrid strain has notes of pineapple, berry, and, of course, banana that are sure to bring on some summer bliss. As if the flavor isn't enough, Banana Punch's unique terpene profile stimulates the appetite while letting your mind go to happier places so the only thing you're left worrying about are the right snacks for movie night.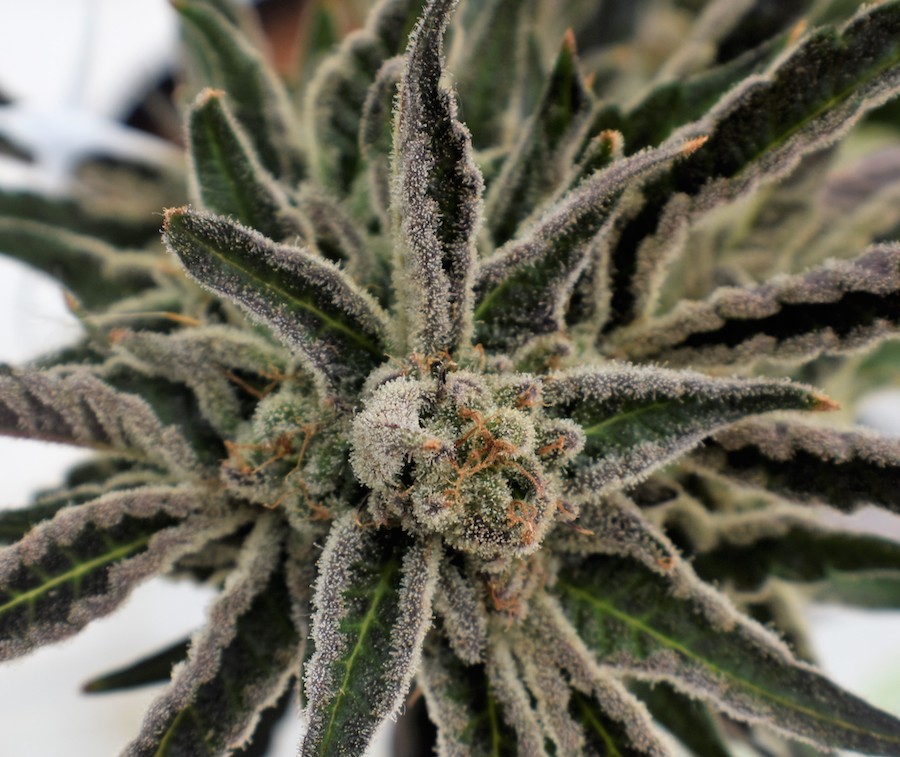 Grape C
Grape C is an indica-dominant hybrid strain that delivers a relaxing euphoria that keeps you happy and energized throughout the day. Grape C genetics are the famed Grape Stomper, Cherry Pie, and Wedding Cake.
Inhale the sweetness of grape and earth and exhale worry and doubt.
Grape A
Grape A is an indica-dominant hybrid strain that eases pain and stress in the body and mind. Its earthy-sweet, vanilla taste profile deliver euphoric relief.
If you love Grape Pie and/or Animal Cookies, you are sure to love their beautiful baby girl, Grape A.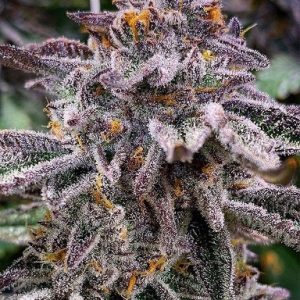 Gorilla Z
A beautiful indica-dominant hybrid by the name of Gorilla Z is about to change up your nightly routine. This strain aids in pain relief and mental relief. Let the sweet, earthy and diesel terps be your herbal night cap.
MEJU
Kick back and cool off with MEJU. An indica-dominant hybrid strain, MEJU has a terpene profile best suited for holistic physical relief, and, as the name suggests, the flower of this strain has a fruity aroma with hints of mango and watermelon. Patients can expect sedative and soothing properties that gradually branch through the body to ease pain and help facilitate a restful state of mind. Beat the heat of a stressful day and plant yourself in front of the sunset with OR's MEJU.
Marshmellow OG
Marshmellow OG is an indica-dominant hybrid strain with genetics such as OG Kush and the sweet and happy Bubblegum.
This strain's pain-relieving powers are potent and sure to make your mind and body feel at ease. This experience is delivered by nutty, honey and creme brûlée like terpenes.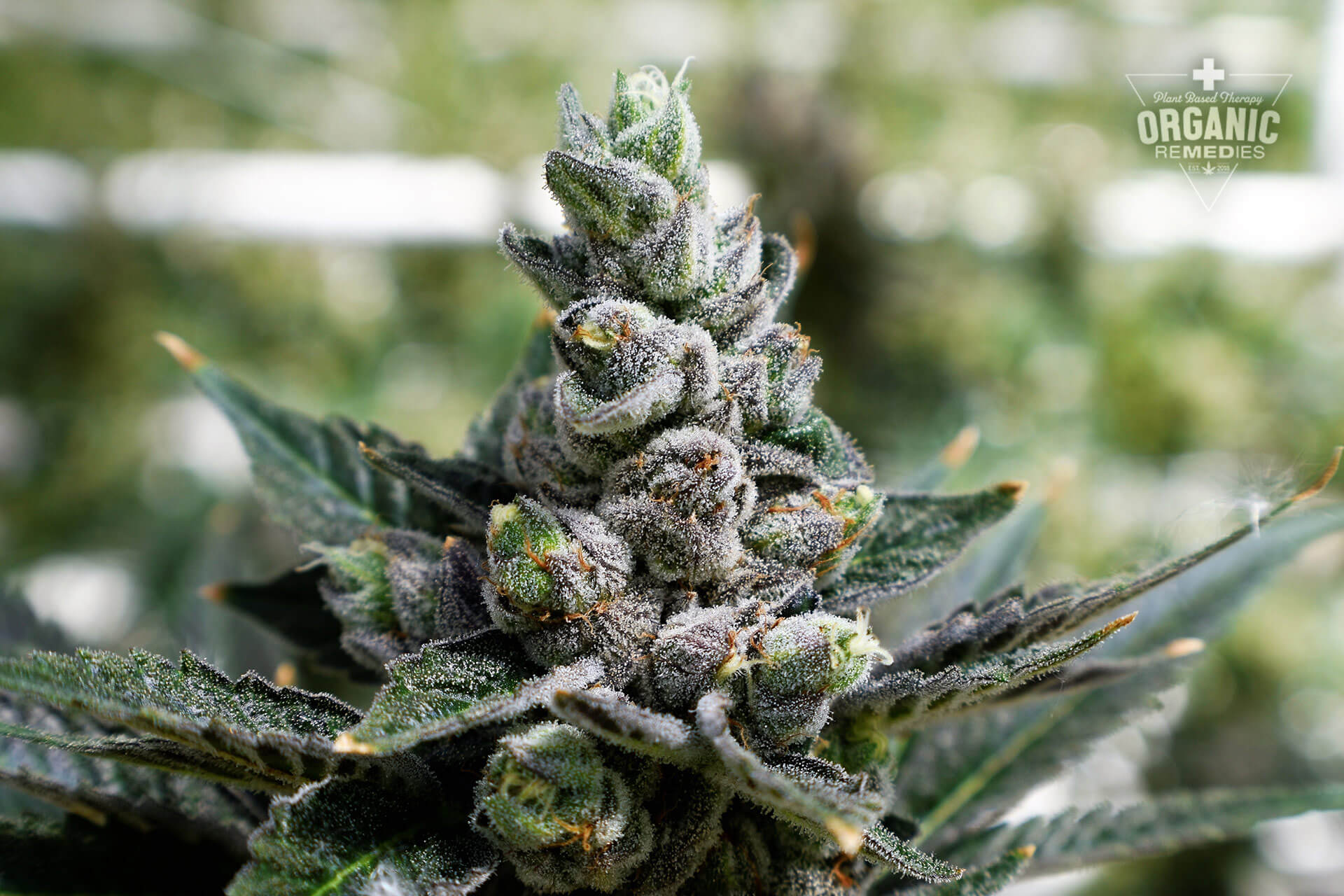 OG Kush
OG Kush is a slightly indica-dominant hybrid strain that produces a relaxed, happy state-of-mind. This strain has a unique terpene profile with a complex spicey aroma. OG Kush is a powerful night-time remedy that is great at easing body ailments and much more.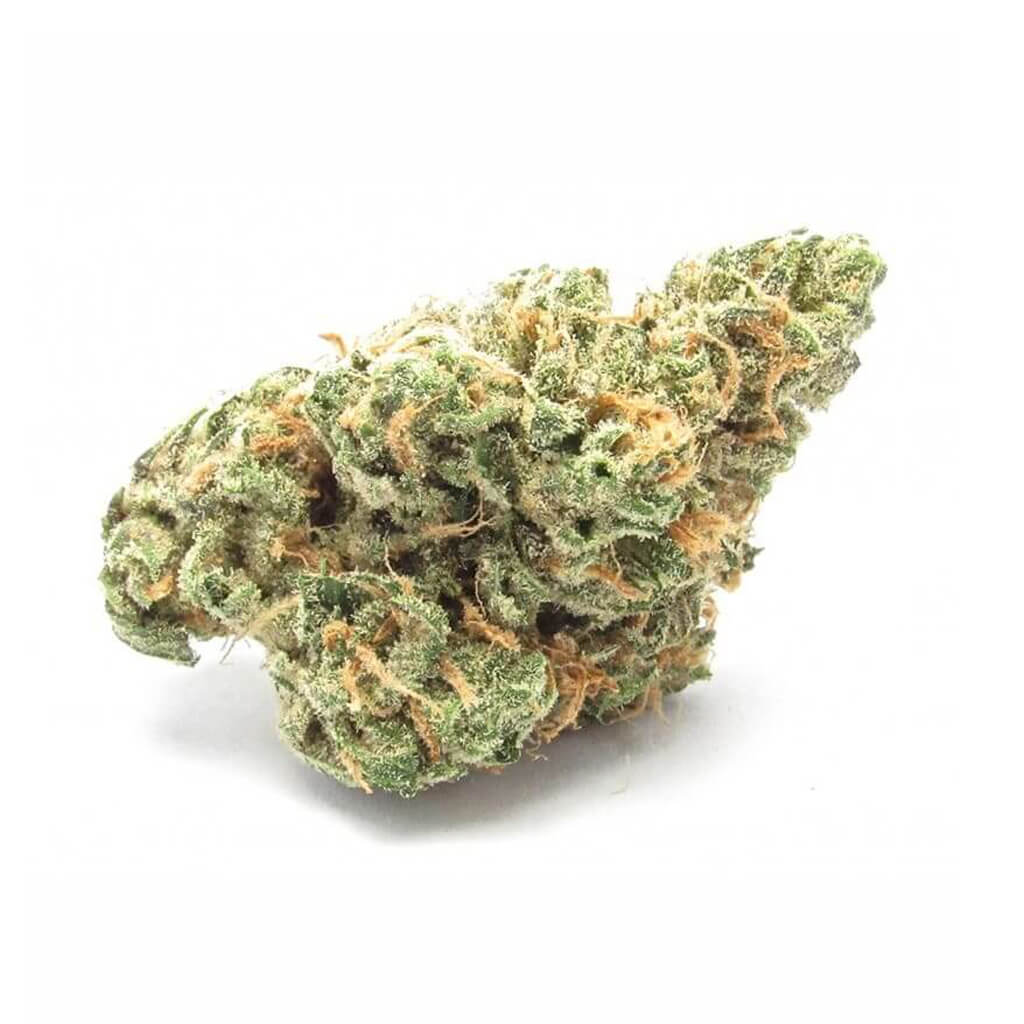 Purple Z
Purple Z, a cross between Purple Punch and Zkittlez, gives a deeply relaxing feel. Perfect for after dinner relaxation or getting ready for bed. Purple Z is sure to please with its dark berry and earthen terpenes.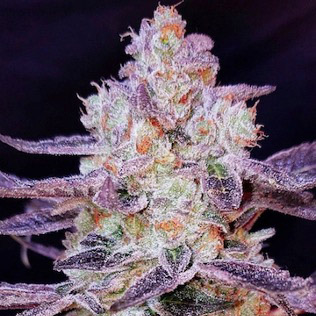 Vanilla Kush
Vanilla Kush is an indica-dominant strain, delivering immense pain relief and sedating qualities. Its bright green buds invite relaxation and peace of mind. Breathe in the earthy, sweet scent of your new favorite nighttime strain, Vanilla Kush.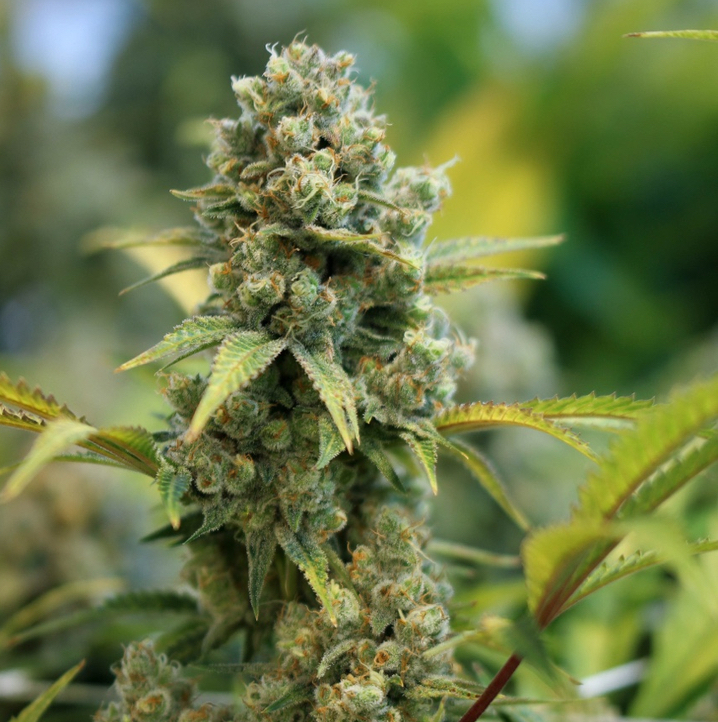 AK
OR welcomes a classic strain into its lineup with AK. This sativa-dominant hybrid is known for its long- lasting, mentally stimulating effects that are great for engaging with friends or a fun project. AK's terpene profile can be energizing for certain individuals which may help regulate mood and anxiety. Also an appetite stimulant, AK has been a staple for those looking for familiar sativa effects.
Alaskan Thunder
Bred and crossbred to survive and thrive in difficult climates, Alaskan Thunder is a sativa strain of near-mythic origins. The unique terpenes on this strain provide a euphoric yet relaxing effect aided by a slow come-on and can help stimulate analytical thinking.
Amnesia Haze
Amnesia Haze is an uplifting sativa strain with an impressive track-record. Decorated with awards, this strain has found popularity both at home and abroad. The sativa effects are fast-acting, cerebral, and can even help with tedious tasks. This sativa has notes of lemon and pepper on top of an earthy taste wrapped in dense buds. Amnesia Haze is a strain worthy of its merit, and has found its place in the medicine chests of those looking for relief from stress and anxiety.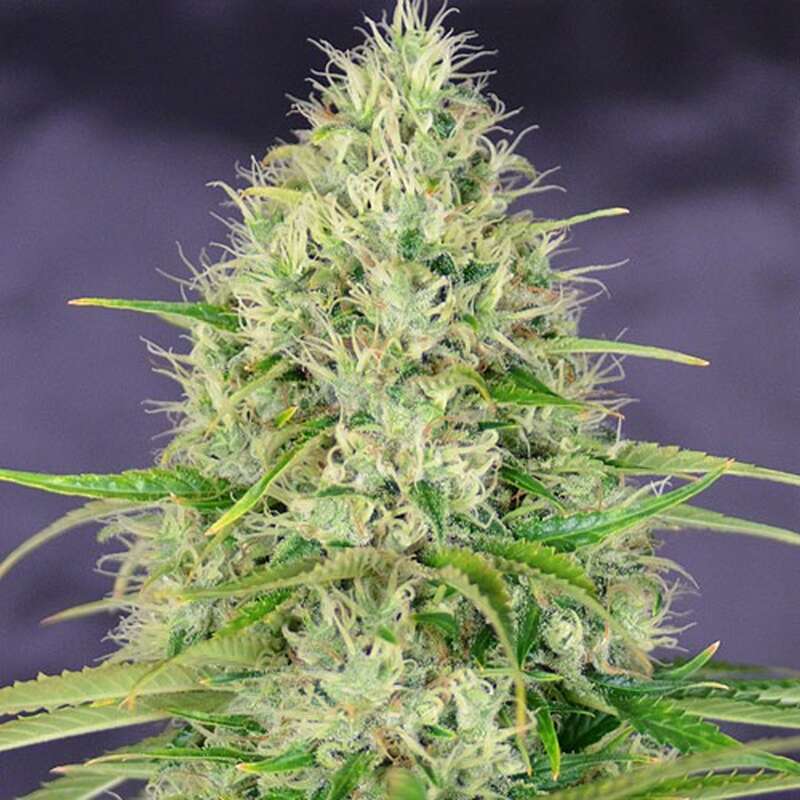 Cherry AK
Bred from the popular AK phenotype for its cherry-like flavor and reddish hues, Cherry AK is here to satisfy those looking for something familiar yet refreshingly different. A sativa-dominant hybrid, this strain can help relieve physical pain and nausea while stimulating and de-stressing the mind. Like AK, patients consuming Cherry AK can expect euphoric feelings and thoughts making it perfect for creative projects and philosophical conversations.
Sour Diesel
Sour Diesel, a traditionally sativa-dominant strain, promotes a healthy uplifting, creative boost to your day. Taste the peppery, pine and herbal terpenes with each breath, and slip into a euphoric ease.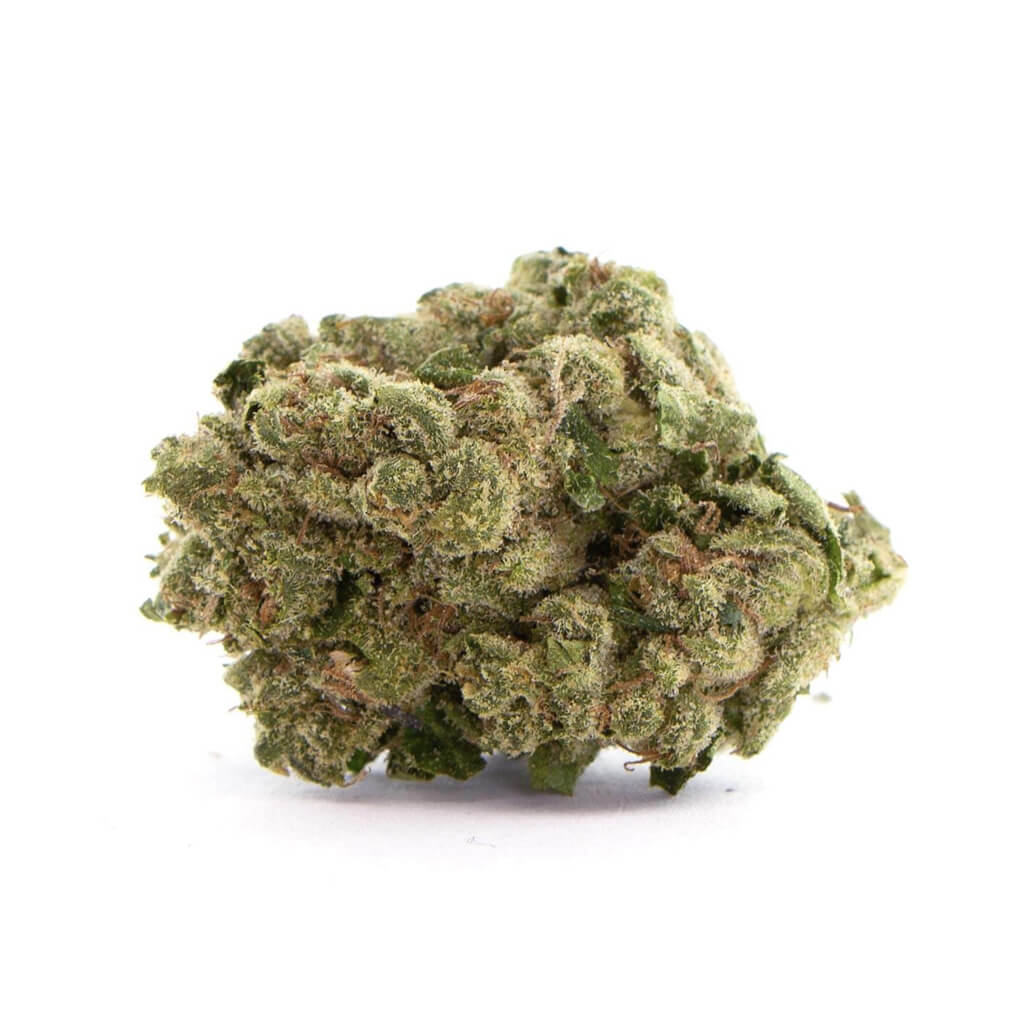 Sour Tangie
Sour Tangie is a traditionally sativa dominant strain, best for daytime use, that delivers a happy, uplifted and energetic feel. Tackle any task with Sour Tangie and relax when the work is done. Your body will enjoy the pain-relieving effects, as well. Inhale sweet and sour, diesel terpenes and enjoy the day ahead.
Star Dawg
Star Dawg is an energizing and euphoric sativa dominant hybrid. Its genetics are Chem Dog 4 and Tres Dog. Just like Star Dawg's parents, this strain carries similar terpenes such as rich earth, sharp diesel and pine notes. Use the strain for pain relief, to keep the mind clear and focused on one task at hand and to find euphoria in this task.
Stracciatella
Stracciatella is a sativa dominant, hybrid strain that is as sweet as it sounds. The sweet, chocolatey, and spicy terpenes make this strain a perfect accompaniment to any after dinner treat.
Tangie
Tangie is a sativa-dominant hybrid strain, with herbal, citrus and pepper notes. Let the feeling of energy, creativity and relief wash over you, with each breath. A delightful addition to any creative's medicine cabinet.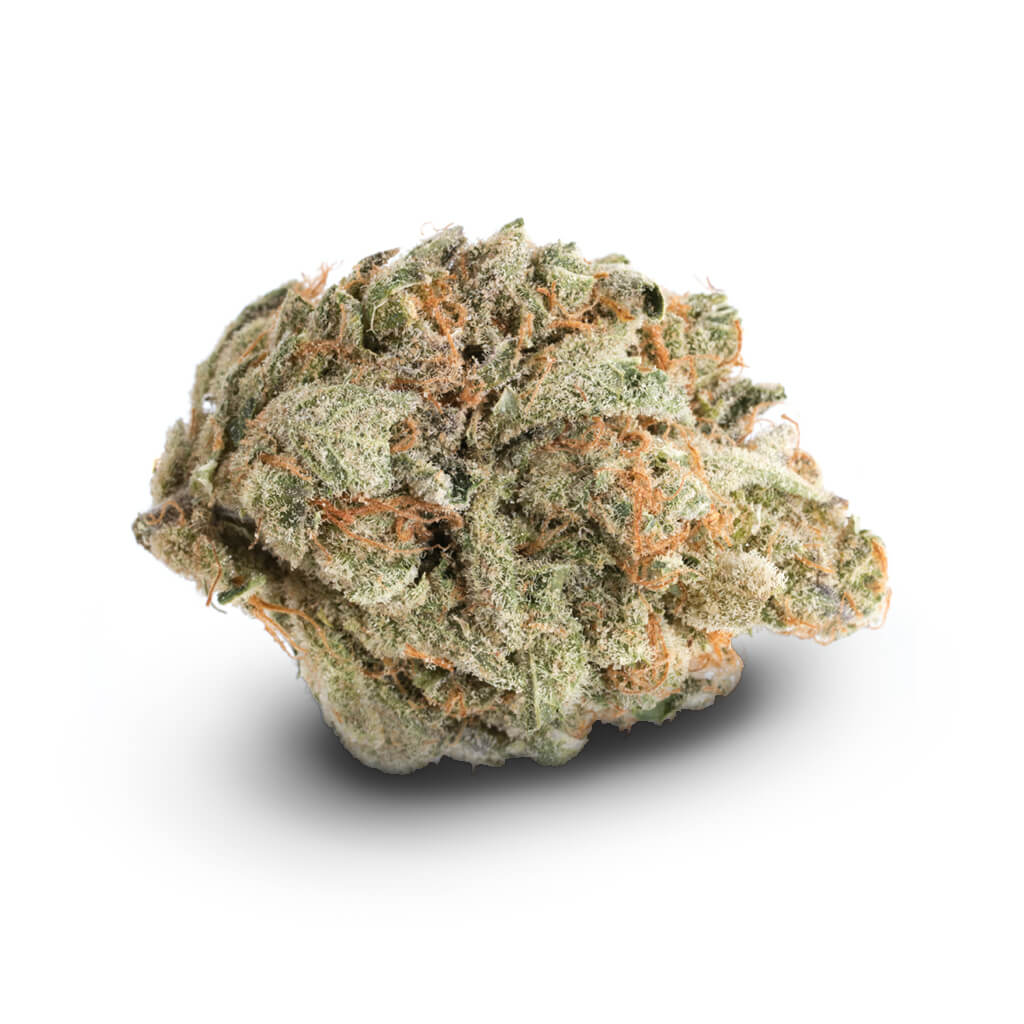 Vanilla Kush
Vanilla Kush is an indica-dominant strain, delivering immense pain relief and sedating qualities. Its bright green buds invite relaxation and peace of mind. Breathe in the earthy, sweet scent of your new favorite nighttime strain, Vanilla Kush.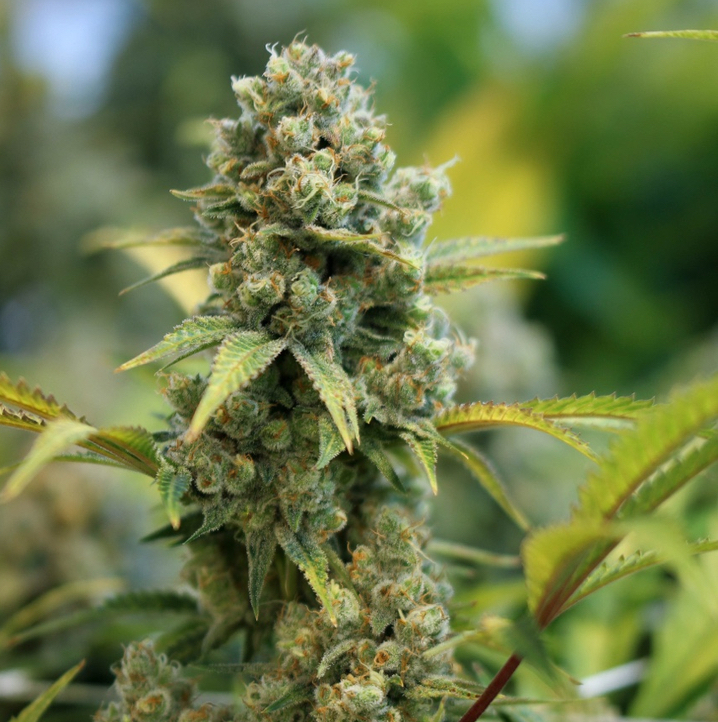 Lilac Diesel
A cross of numerous genetics, Lilac Diesel has been tailor-made to provide happy, uplifting effects followed by gentle sedation. The strain is aptly-named for its mint green buds with light purple hues and a sweet floral taste backed by classic diesel. An evenly balanced hybrid, patients may find relief from depression, anxiety, and stress. Take a moment and smell the flowers with OR's Lilac Diesel.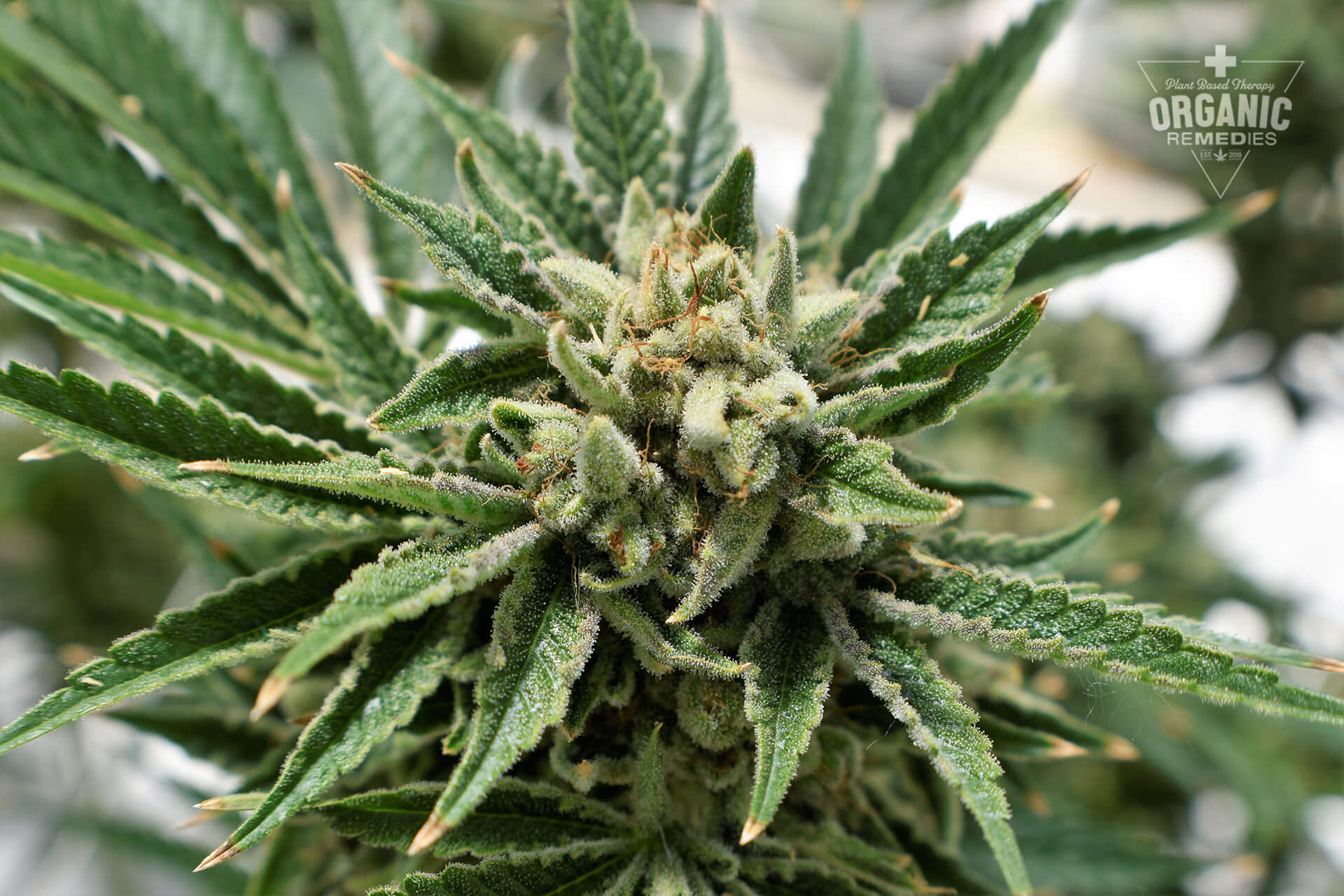 Lemon Rocks
Organic Remedies' Lemon Rocks is a hybrid strain, perfect for pick-me-ups in the morning and easing tension at night. This strain's lineage showcases Lemon Rock Candy, Lemon OG and the sativa- dominant Lemon Thai. Lemon Rocks flower and concentrate emanate uplifting, citrus and diesel terpenes that cannot help but put a smile on your face.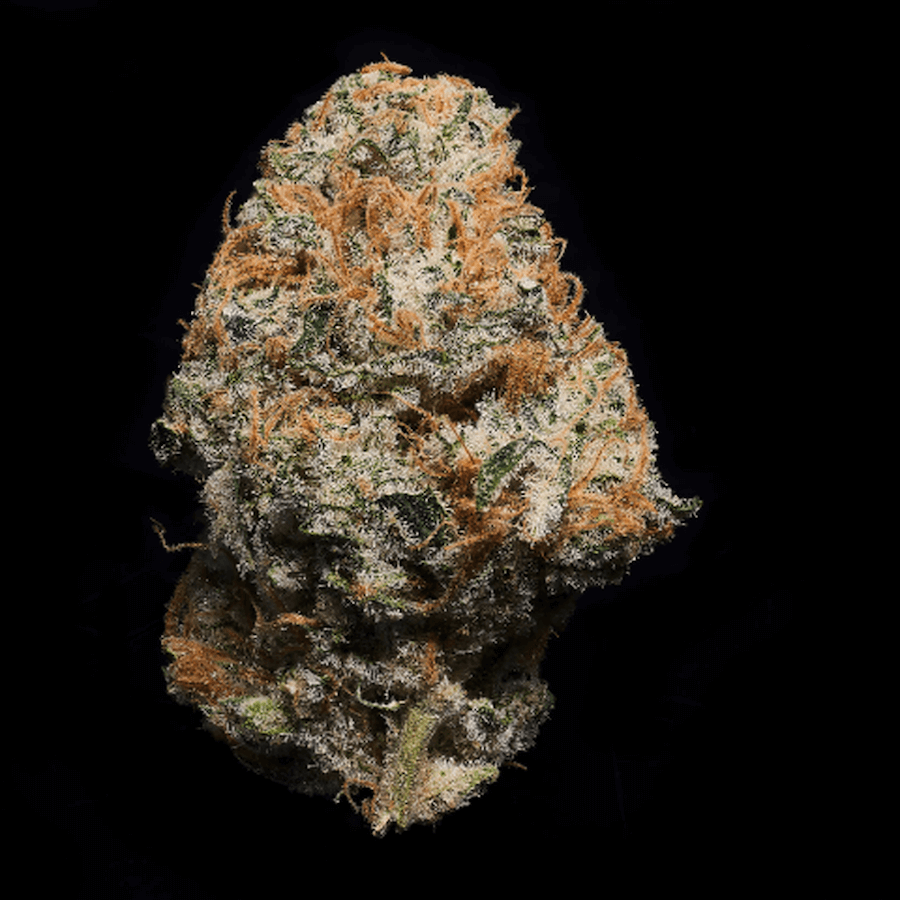 MAC
MAC is a relaxing and euphoric hybrid. This can be used any time of day and is sure to keep you uplifted and balanced. MAC is notorious for aiding in times when you are feeling anxious, stressed or depressed.
Call on her and she will deliver her medicine with sweet and earthy terpenes.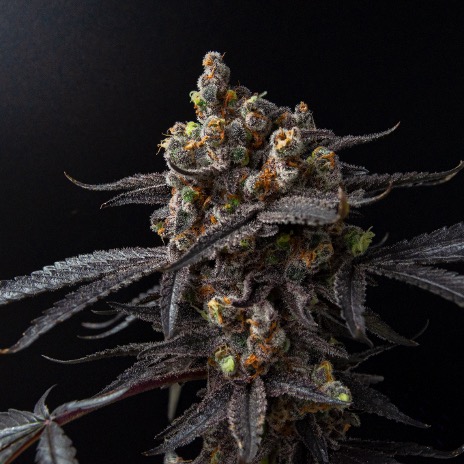 Meat Breath
Meat Breath is a hybrid strain that aids in pain relief, a reduction in nausea, anxiety, and body tension. Like the name suggests the terpenes connected to this strain are funky, to be sure. A cheesy, mossy, herbal and bright combination of scents brings peace to the mind and body.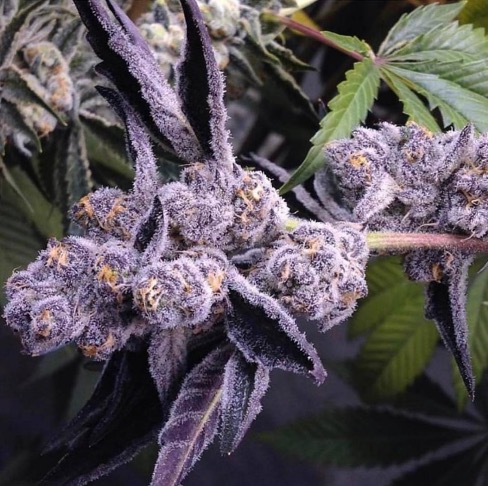 MRBE
MRBE is a slight indica-dominant hybrid that keeps you relaxed and happy while still experiencing mild euphoria. The strain's tart and fruity terpenes instantly uplift and clear the mind. Prepare for your mind and body to feel at ease. With parents like famed pain-relieving Skunk Berry and sweet Mandarin Sunset, you can do no wrong.
MoPo
MoPo is a slightly indica-dominant hybrid strain with genetics expertly selected for potency. A cross between Marshmellow, which is descended from the Girl Scout phenotype, and Chem Dawg; MoPo boasts high THC levels to go with its curated pedigree. MoPo's effects are primarily driven by THC and can bring on a sense of tranquility to both the mind and the body. Buds of the flower will have a sweet aroma, as Marshmellow is the predominant flavor, and patients may also detect hints of mint and berry. With such a distinctive lineage and robust effects, we're sure that you'll be over the moon with Organic Remedies' MoPo.
Peach Crescendo
Peach Crescendo, a balanced hybrid strain, is immediately relaxing and keeps you happy and uplifted throughout the day. This strain's genetics are Kim D, I-95, Mandarin Cookies and the delicious Peach Rings. Flavor profiles range from tropical sweet to a diesel twang.
Triangle Kush x FPOG
Triangle Kush x FPOG is a potent pain relieving, mentally stimulating, and happy hybrid cross. The terpene profile ranges from toasted nuts, earth, and sweet berry. This strain is truly the best of both worlds, giving you the mental stimulation to finish any creative task and still allows you to rest whenever your body needs.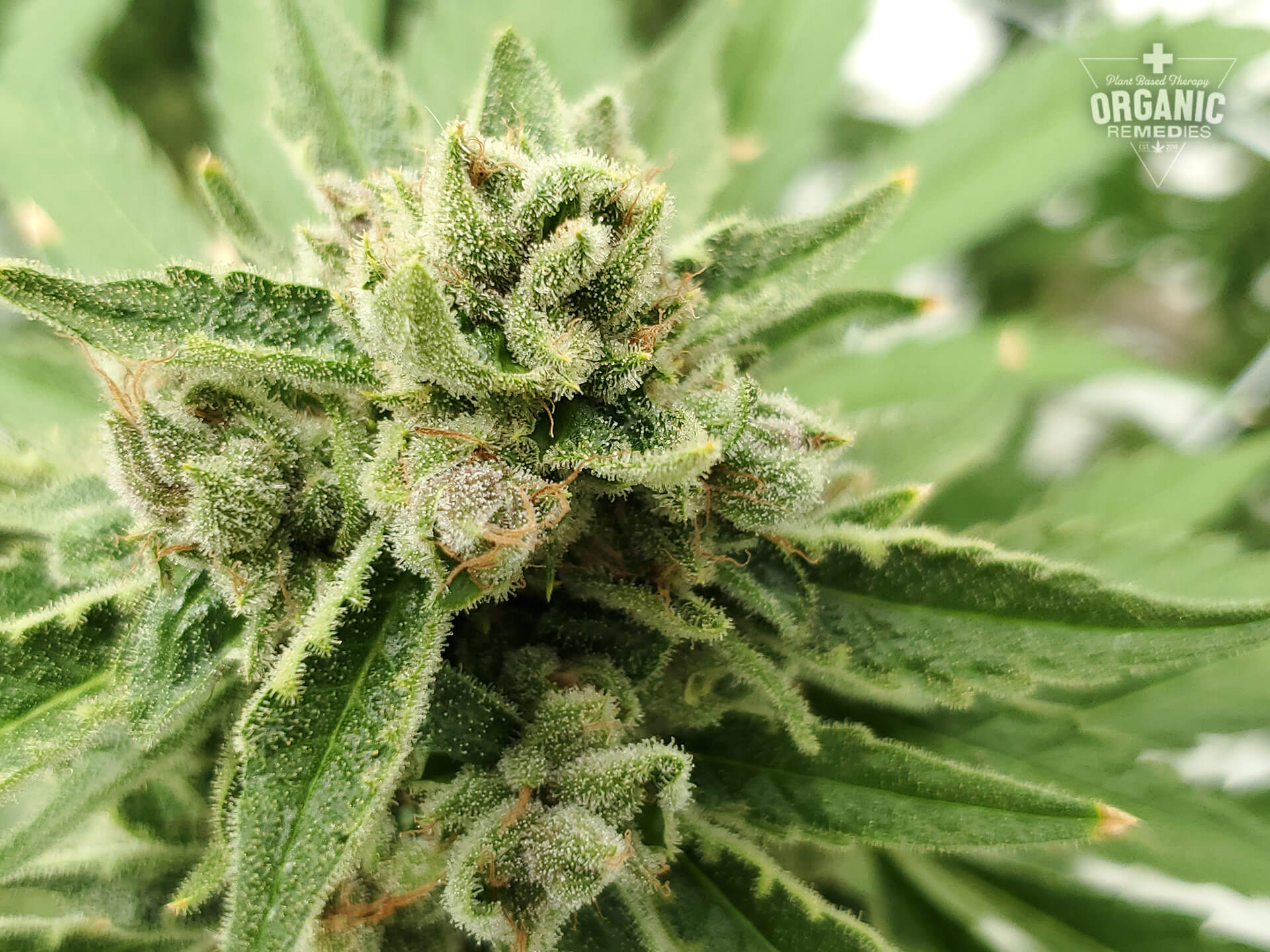 Wintergreen OG
Wintergreen OG is a rare hybrid that typically leans slightly on the sativa side. Characterized by its lush green buds and striking orange hairs, these frosty flowers exude scents of rich and earthy overtones, with fruity splashes throughout. The effects come with a flavor reminiscent of spicy diesel and sour citrus. Wintergreen is a bright and dreamy cultivar that's certain to keep you uplifted and motivated as you tackle the day's challenges.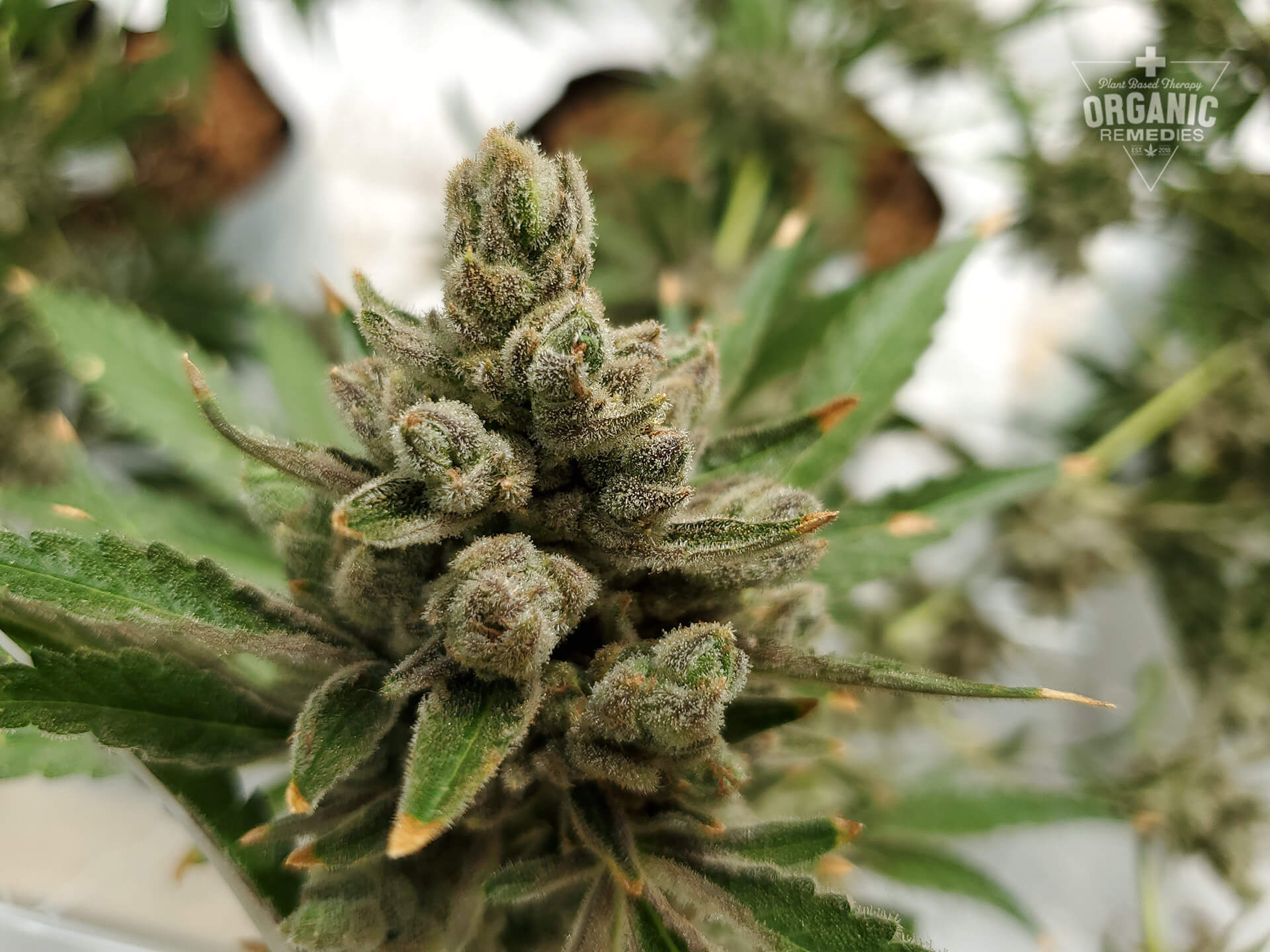 Cherry CBD
The newcomer in the world of CBD-strong cannabis, Cherry CBD strain, is a powerful and safe remedy for many ailments. At the same time, it is one of the best strains for a fun evening with friends or some peaceful moments for yourself. Due to its exceptional level of the cannabidiol (CBD) concentration and low delta-9 tetrahydrocannabinol (THC) content, you get relaxation for your muscles and energy for your mind.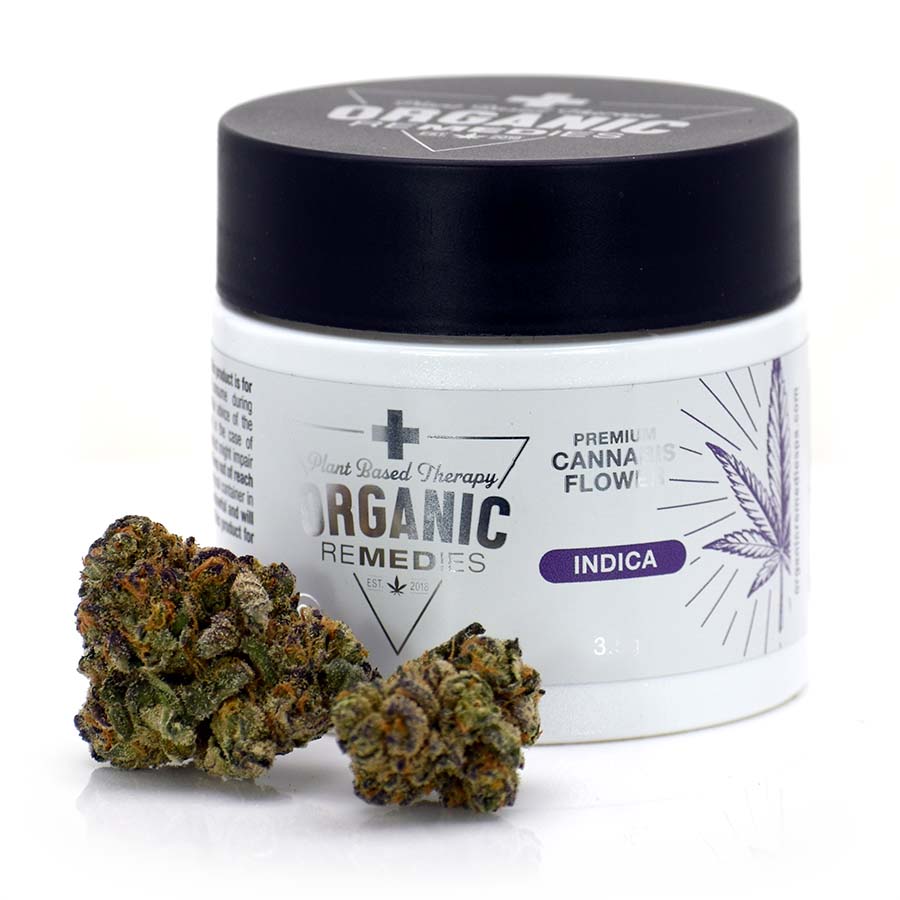 Dry Leaf/Flower
Organic Remedies offers a large variety of unique strains in dried flower form. This type of cannabis allows patients to experience medical benefits through a variety of common methods. Organic Remedies is proud to offer only the highest quality flowers to patients across Missouri.
Distillate Cartridges
Our distillate cartridges start with refined, high potency distillate and formulated with all natural botanically derived terpenes or a pleasant fruit forward taste. These cartridges offer convenient, discreet vapor and are available in 510 thread cartridges.
Live Resin Cartridges
Our live resin cartridges deliver long-lasting effects, with the efficiency of active concentrates in a portable device. From freshly frozen flower, we extract strain- specific oil, and insert it into the cartridges. In this way, patients can experience the true essence of the plant- as nature intended. Find these in our black vape cartridge box.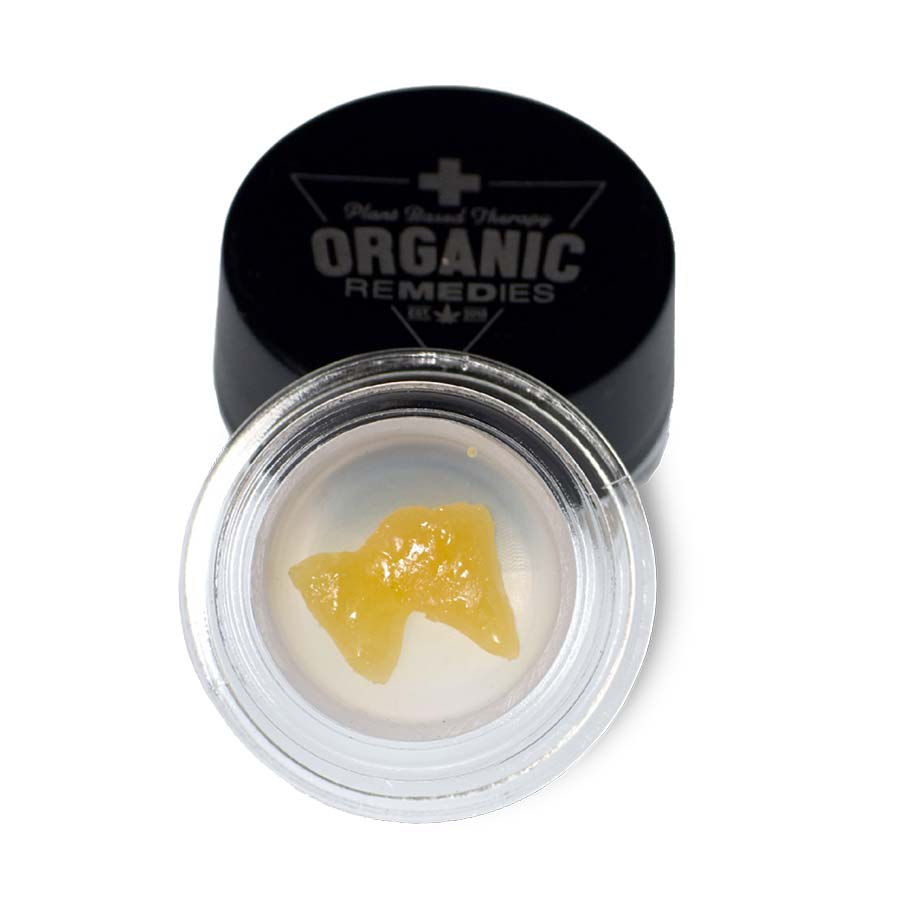 Live Resin Concentrates
Marijuana extracts, or concentrates, come in many forms which are typically vaporized by patients. Each form has its subtle differences which make them unique, and suitable to individuals consumption methods. Organic Remedies is proud to offer various forms of Live Resin concentrates from badder, sugar, shatter, diamonds and sauce.
Live Resin is a process in which the plants are frozen within hours of being harvested to preserve as much of the plants true flavor profile as possible. The end result is a high potency extract with loads of terpenes for a flavorful experience that expresses the true essence of the plant.
THCa Sand
Sand is a live resin extraction and refined with our proprietary process to isolate the THC-A molecule. What you get is an extremely high potency, low terpene extract. That is great for an addition to flower or concentrate as an added boost of potency. We have even used it to mix into items and cooked as long as it is decarboxylated in the process.
This is not hash, kief or any other type of trichome heads, this is an extraction specifically designed to isolate the psychoactive molecule of the plant which is THC-A.